Madden 18 Best Starting Lineup
we've only managed to get our hands on Madden 18 player ratings for the offensive side of the field, as EA were swift to remove player ratings before we could rank every defensive position. As such, we've rounded up the best Madden 18 offense skill positions lineup based on the player ratings that we've rounded up so far.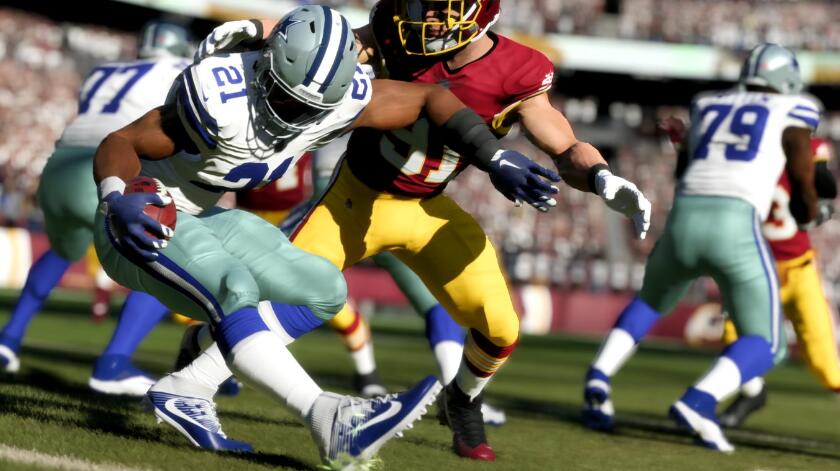 WR 1: Julio Jones - WR 1 typically requires a bigger, stronger receiver, able to go up and get contested balls midair with defenders all around. Julio Jones fits this mould perfectly, ticking every box on the list, and provinding a more physical option than the likes of Antonio Brown.
WR 2: Antonio Brown - Brown is the logical option here, boasting a terrific speed rating with solid catching abilities. Brown and Julio Jones are honestly fairly interchangeable in these roles, but we'd prefer Antonio Brown as WR 2 mainly due to his superior agility.
WR 3: Odell Beckham Jr. - For the slot receiver role, Beckham fits perfectly, able to quickly cut past defenders while also boasting some insane catching skills. Again, Antonio Brown could easily fit into the WR 3 role, but Beckham is preferable due to his slightly superior acceleration.
TE: Rob Gronkowski - Because who else were we going to choose for the number 1 tight end in the league right now. Gronkowski is second to none at the TE position, able to catch virtually any ball thrown in his direction, while also putting up a solid fight when needing to block.
QB: Tom Brady - With 5 Super Bowl rings behind him, there's no doubt that Tom Brady is just about the best QB in the NFL right now. You might opt for Aaron Rodgers if you prefer a slightly more nimble QB, Brady is second to none for pure accuray and power.
HB: Le'Veon Bell - Right now, Le'Veon Bell has to be the number 1 running back in Madden 18, combining power and trucking ability with precision and agility. This may of course change once Marshawn Lynch's ratings are eventually revealed, but right now Le'Veon Bell is the no-brainer.
who the Texans' best player is in Madden 18?
Madden 18 doesn't hit the stores until August 25th, but MaddenSchool.com has managed to leak the ratings for every player. Let's see how the players on the Houston Texans look in this year's game.
The top 5 O-lineman in Madden NFL 18
Dallas O-line got lots of love from the ratings gods, as well they should. But the Oakland Raiders' O-line deserve some props. Kelechi Osemele (92 OVR), Rodney Hudson (90 OVR), and Donald Penn (89 OVR) all made it into the top 12
Fast Delivery
Our delivery team work 24/7 to make the delivery so we can usually complete your order in a very fast time.
Cheap Price
We do price check everyday in the whole market and we promise to make the prices as cheap as we can.
7x24 Support
Nfl18coins.com has a group of professional customer service team who work 24/7.
Refund
In the process of purchase, if we do not fulfill the customer's order on time, a refund will be granted. The refund will be issued immediately!