Madden 18 Rookies Pick Analysis part 3
Last time nfl18coins editor wite Madden 18 Rookies Pick Analysis part 1,Madden 18 Rookies Pick Analysis part 2,today we will Analysis next 5 Madden 18 Rookies Jabrill Peppers,David Njoku,DeShone Kizer,Larry Ogunjobim,Myles Garrett.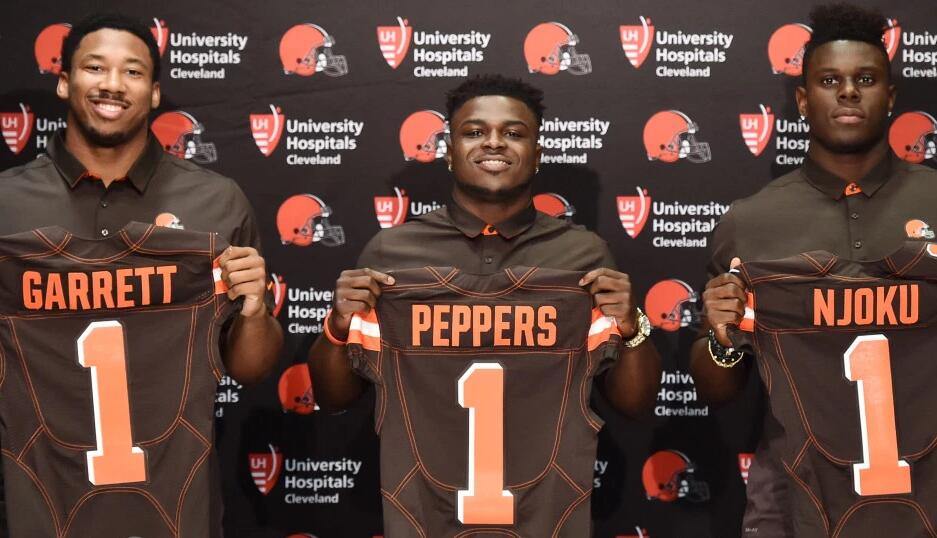 Jabrill Peppers, S: 80 Overall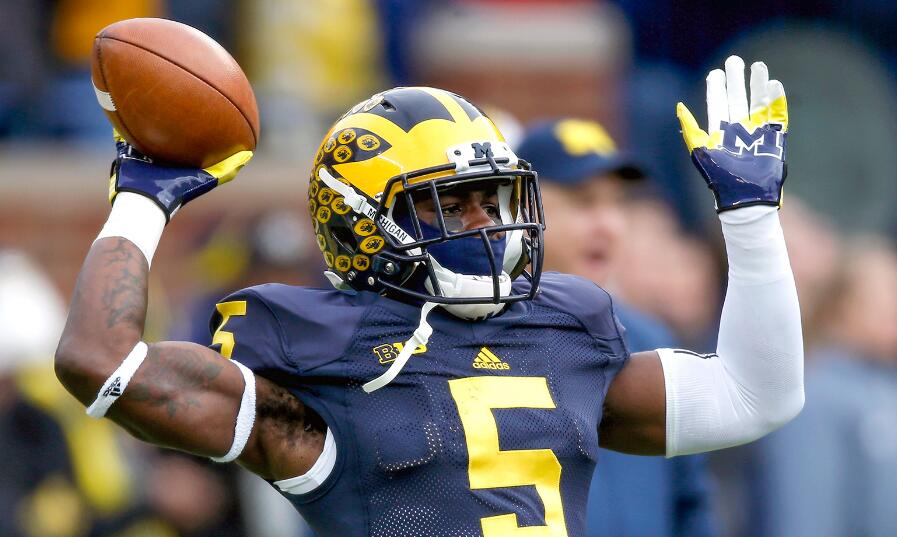 WEAKNESSES
Scouts question his instincts and lack of ball production. Has just one interception and 10 passes defensed at Michigan. Slow to recognize construct of play and can be found playing through a straw at times. Needs better recognition and anticipation to become an improvising play-maker. Doesn't always trust his feet in coverage and will maul at the top of the route. Just a guy when asked to play deep safety. Slow to read and range until ball is in the air. Can be overzealous against play-action and drawn below his deep ball responsibilities. Too small for take-on duties at linebacker. Leads into tackles with ducked head. Opts to hit rather than wrap-up.
Jabrill Peppers is an American football safety for the Cleveland Browns of the National Football League. He played college football at Michigan, and was drafted by the Browns in the first round of the 2017 NFL Draft.

STRENGTHS
Athletic and fluid in space with desired change of direction talent. Moves with the changing flow of a play. Willing to sacrifice body to honor contain against run. Jack of all trades. Can play slot, safety or linebacker in sub-packages in any given game. Won't hesitate to race downhill once he diagnoses run. Hits with as much force as he can muster. Has big closing burst. Runs plays down from sideline to sideline. Able to knife into gaps and make tackles for losses or disrupt runs. Has man cover talent and is physical enough to handle most tight ends. Has enough quickness to match receivers. Aggressively re-routes receivers. Capable blitzer who buzzes in from all angles. Electric return man with ability to charge up crowd and his own sideline with big kick or punt return. Has experience carrying and catching the ball and as wildcat quarterback. Could offer red-zone flexibility on offense.
David Njoku, TE: 79 Overall
With a worse rating than former Browns TE Gary Barnidge, Njoku should land in the high 70s. Even though he is a step back, Njoku will provide better receiving skills and he should have high ratings in spectacular catch, jumping, and acceleration. The Browns passing offense might actually be fun to play with this year.
Pick Analysis:
A New Jersey kid who wanted to play for Michigan because of Heisman Trophy winner Charles Woodson, Peppers' home life wasn't easy. His father spent most of Jabrill's childhood in jail, and his brother was shot and killed seven years ago. Football seems to be his calling, though, as he was named the 2013 USA Today High School Defensive Player of the Year while also starring on offense and in track (won 100 meters and 200 meters at state in both his junior and senior years.) Peppers' collegiate career was sidetracked due to a leg injury after three games (one start, eight tackles). He picked up the Big Ten Freshman of the Year Award and first-team all-conference in 2015 (5.5 tackles for loss, 10 pass break-ups; 72 rush yards, 2 TDs; 27.9 kick return average, 11.4 punt return average). Last fall, he was the conference Linebacker of the Year and first-team honoree (72 tackles, 16 for loss, four sacks, one INT). He did not play in the Orange Bowl, however, due to a hamstring injury that flared up in practice.

DeShone Kizer, QB: 76 Overall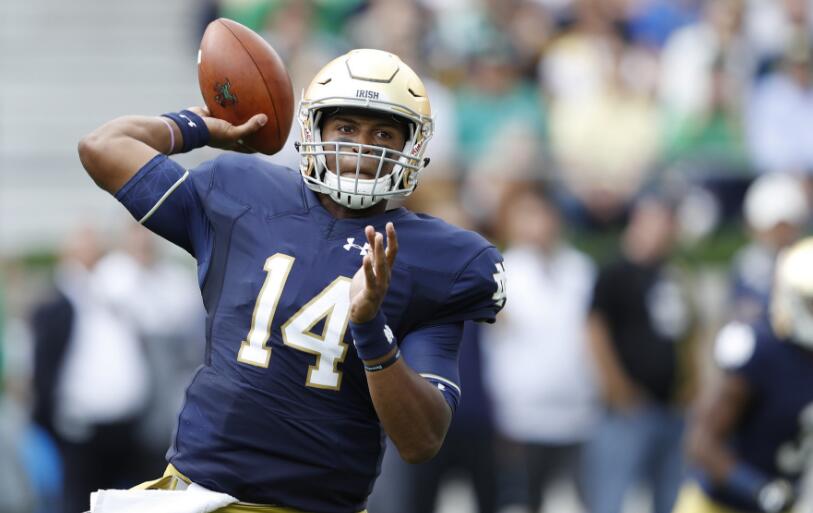 DeShone A. Kizer is an American football quarterback for the Cleveland Browns of the National Football League. He played college football for the Notre Dame Fighting Irish.
This rating is probably wishful thinking considering Robert Griffin III was only a 74 in last year's version, but Kizer was selected early in round two and this is not a high rating. Kizer should really shine with the throw power, throw on the run, and play action attributes.
Pick Analysis: Kizer got a chance to start at quarterback for Notre Dame as a redshirt freshman in 2015 when Malik Zaire had surgery on a broken ankle to end his season. The big-bodied, athletic passer played well given his lack of experience, completing 63 percent of his passes for 2,884 yards and 21 touchdowns. Kizer earned the starting spot coming into the 2016 season, as head coach Brian Kelly saw the young man's potential. He started the season strong (five touchdown passes against Texas in the opener) but fell into a midseason slump that saw him benched for Zaire at times. He threw for 2,925 yards and 26 touchdowns for the 4-8 Irish last year, and received sufficient positive feedback from NFL sources about his ability to leave school.
STRENGTHS
Big quarterback with a big arm. Can make all of the throws. Has step and crank power to drive throws into the seams. Has the arm talent and willingness to challenge safeties on both intermediate and deep throws. Looks the part with thick frame to withstand NFL punishment. Over the top delivery creates tight spirals. Has powerful grip allowing for aggressive pump fakes to move defense around. When he's comfortable, will tie feet with his eyes as he scans the field. Adequate drive accuracy. If he feels a completion is imminent, he'll stand in and take a punishing shot. Strong, authoritative runner with the speed to hit a big play with his feet. Two-way threat in the red zone. Posted 18 rushing touchdowns over last two seasons.

WEAKNESSES
Gets stuck on primary read missing out on early openers around field. May not have eyes or compact release to spot and hit flashing targets. Can be too reliant upon arm strength over mechanics. Wants open throwing window rather than operating with early anticipation. Can improve in leading receivers and throwing stationary targets open. Too hesitant. Gets caught in pump fake vortex at times. Quick to drop his eyes and halt progressions when pocket warms up. Inconsistent decision-maker. Showed dreadful lapses in judgement that lead to interceptions. Too willing to make off-balanced heaves. Benched against Stanford. Had at least one interception in 15 of his 23 starts. Will take a sack despite having ample time to read and throw.
Larry Ogunjobi, DT: 67 Overall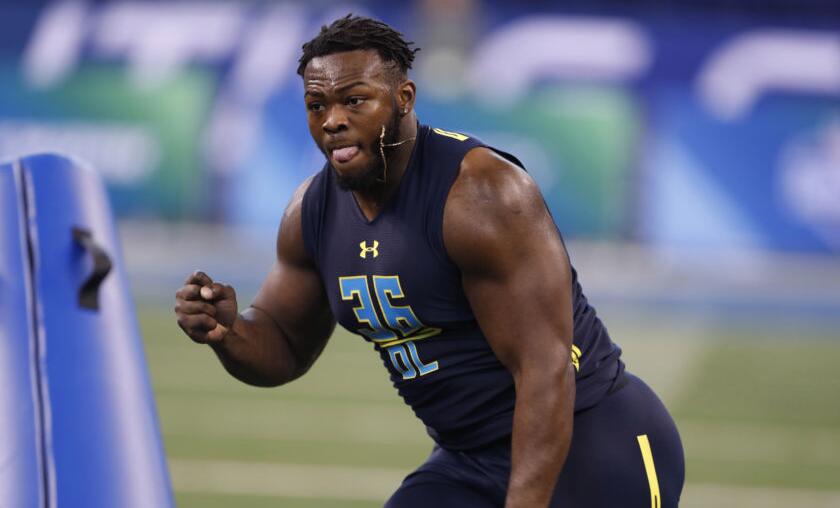 Olumide Larry Ogunjobi is an American football defensive tackle for the Cleveland Browns of the National Football League. He played college football at Charlotte. Ogunjobi attended Ragsdale High School in Jamestown, North Carolina.
Danny Shelton is a stud and was rated as an 82 and Ogunjobi will be coming in as a third rounder. He will more than likely be the last rookie with a rating high enough to actually be fun to play with. Sadly his best trait will probably be something like injury, but I would expect his strength and tackling to be surprisingly high as well.
Pick Analysis: The son of Nigerian immigrants, Olumide "Larry" Ogunjobi (Oh-ghun-JOE-bee) took up football as a high school sophomore. He finished his career there as an all-Greensboro area pick, earning a scholarship from a home-state university in Charlotte that was starting a football program. Ogunjobi started every game in the school's history and led the team in tackles for loss in each of his four seasons. He wore an honorary number 49 jersey for the 49ers in their first-ever game in 2013, finishing the year with 42 tackles, 9.5 tackles for loss, and 2.5 sacks. Ogunjobi excelled in his sophomore (48 tackles, 11.5 TFL, five sacks) and junior years (62 tackles, 14.5 TFL, 2.5 sacks), even earning second-team All-Conference USA honors in 2015. In 2016, Ogunjobi was a first-team All-Conference USA selection as he accumulated 65, tackles, and led his team with 13.5 stops for loss and three sacks.
WEAKNESSES
Very average build for an interior player. Has continued to add weight while at Charlotte but likely needs a few more pounds. Below-average arm length makes it essential for him to get into blocker first. Will get big-boyed occasionally. Big guards with length able to disrupt his rhythm and alter his plans. Gets in a hurry when he smells a sack and will overrun target at times. Would benefit with more disciplined pursuit angles in space.
STRENGTHS
Low center of gravity with impressive power coursing through his hips. Wins race against blockers for first hands on opponent. Fires out of his stance and into blockers with coiled hips and a wallop in his punch. Strikes with leverage. Able to dislodge blockers with anchor issues. Plus athletic ability to mirror ball carrier once he locks in on target. Has speed to chase runners in space. Can set a strong edge or penetrate upfield. Makes impact tackles on the other side of the line. Hands are fast and powerful. Has strength and balance to fight through redirect blocks and maintain his journey to the quarterback. Uses powerful right-hand club to bat away blocker's punch and slide over the top and into the backfield. Constantly improving position as a pass rusher and can be a handful for a less-skilled pass protector. Pushes the pocket with his bull rush. Spends very little time on the ground. Intelligent; four straight years on Athletic Director's Honor Roll.
madden 18 Edition Release on xbox and ps
Madden nfl 18 will coming in August 25, 2017,now ps4,xbox one,easports website are On the shelves madden 18,there are two Edition : Standard Edition,G.O.A.T. Edition
What do you want to see Madden NFL 18 changes
I have a few idea soft what I want to see. I want to see Connected Franchise play a little deeper. Have customization options, much like NBA2K. I also want there to be options to change your uniforms if you don't like your current ones.
Fast Delivery
Our delivery team work 24/7 to make the delivery so we can usually complete your order in a very fast time.
Cheap Price
We do price check everyday in the whole market and we promise to make the prices as cheap as we can.
7x24 Support
Nfl18coins.com has a group of professional customer service team who work 24/7.
Refund
In the process of purchase, if we do not fulfill the customer's order on time, a refund will be granted. The refund will be issued immediately!