The top 5 O-lineman in Madden NFL 18
Dallas O-line got lots of love from the ratings gods, as well they should. But the Oakland Raiders' O-line deserve some props. Kelechi Osemele (92 OVR), Rodney Hudson (90 OVR), and Donald Penn (89 OVR) all made it into the top 12. The only other team to do that is obviously Dallas. Both of these units should leave you well protected in Madden 18.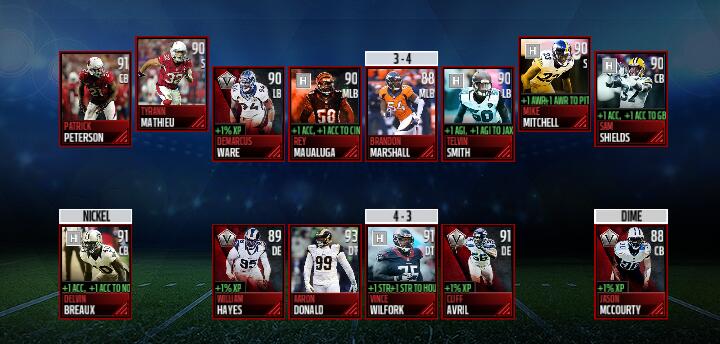 5. Travis Frederick, Dallas Cowboys


So, if you have Smith on the left, and Martin on the right, that leave's Frederick in the middle. The best rated Center in the game, Frederick is a good balance to smith with Run Block stats taking the lead over Pass. His Run Block Strength is best-in-game at 99 with an Impact Block at 97. Something to keep in mind here, Awareness as a unit now effects how the O-line performs with Madden 18's new blocking mechanics. All of the Dallas O-line members mentioned here score well into the 90s. There isn't a better unit in the NFL, so there isn't a better unit in Madden.

4. Tyron Smith, Dallas Cowboys



Reference the earlier spoiler alert, for Cowboys populate the rest of this list. Smith is the best pass blocker of the Dallas bunch with a 94 Pass Block, but he's less balanced than Martin with an 89 Run Block. He makes up for that though with exceptional scores for Block Footwork and Block Strength for both pass and run.

3. Trent Williams, Washington Redskins



Seems almost fitting that the player fending off the remaining flood of Cowboys on this list is a player on their biggest rival. Williams' 95 Strength is beaten by only two other players amongst O-linemen, Russell Bodine and Kyle Friend. Base blocking stats, Williams scores a 94 Run Block and 95 Pass Block, the best combo of any big man. However, his Impact Blocking rating is an 83, falling short of everyone else in the top 5 by at least seven points.

2. Zack Martin, Dallas Cowboys


The Dallas O-line is scary. At the forefront of that is Zack "You Shall Not Pass" Martin. Okay, that nickname is completely made up. And maybe a nickname shouldn't reference a scene where the character dies. Or, doesn't die? I don't care. Point is, Martin is one of the more balanced blockers in the game with a Run Block of 91 and Pass Block of 90. His Block Strength and Block Footwork steer a little more towards the run, but not by much.

1. Marshal Yanda, Baltimore Ravens



When you have a big arm like Joe Flacco, you must give him time for the deep passes. That's where Yanda comes in. At 96 OVR, Yanda is the top-rated O-lineman in Madden 18, largely based on his pass blocking prowess. His 87 Run Block rating is very good, but his 98 Pass Block is the best in the game. Other blocking attributes score in the high 80s, low 90s. He's the guy to have for a passing offense.
Madden 18 Best Starting Lineup
we've only managed to get our hands on Madden 18 player ratings for the offensive side of the field, as EA were swift to remove player ratings before we could rank every defensive position. As such, we've rounded up the best Madden 18 offense skill positions lineup based on the player ratings that we've rounded up so far.
Big Changes To Madden Ultimate Team
This year for Madden 18, EA Sports are making some big changes to Madden Ultimate Team. Many people will buy Madden just to play this mode and today we are looking at some of the biggest changes.
Fast Delivery
Our delivery team work 24/7 to make the delivery so we can usually complete your order in a very fast time.
Cheap Price
We do price check everyday in the whole market and we promise to make the prices as cheap as we can.
7x24 Support
Nfl18coins.com has a group of professional customer service team who work 24/7.
Refund
In the process of purchase, if we do not fulfill the customer's order on time, a refund will be granted. The refund will be issued immediately!