The Top Ten Players in Madden 18 - Players 5-1
Each and every year, the biggest reveal aside from the Cover Star is the list of 99 overall players in Madden. The "99 Club" is a very exclusive list of only the most elite players throughout the entirety of the league. The amount of 99 overall players from year-to-year usually fluctuates up and down, and that's no different at the beginning of this year in which we start the year off with three players in the 99 overall category. Nobody should argue with these three players ratings as of right now, as they are the best of the best when it comes to players in the league right now. And now without anymore explanation needed, let's get into the list and show you guys who the Top Ten rated players are this year in Madden NFL 18. Now let's get into the second part of our Top Ten lists here with players five through one.
5. Julio Jones WR - 98 OVR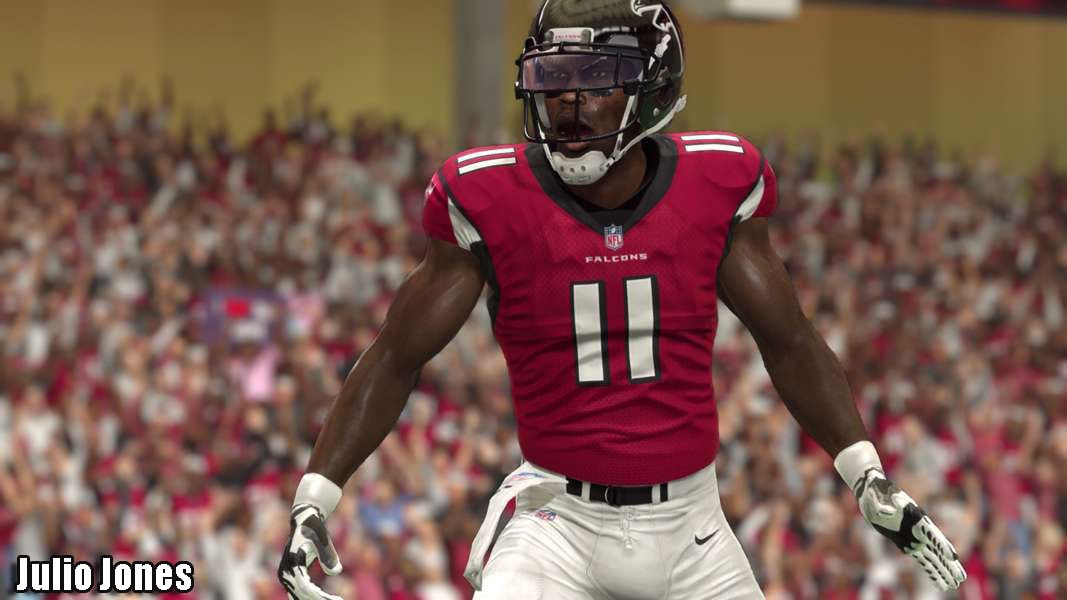 Coming in at number five on the list is Julio Jones. Being rated as the top receiver in all of the game doesn't come as much of a shock to me, and it shouldn't to anybody else. Easily the most physically gifted receiver in the NFL since Calvin Johnson, Julio has the speed, height, jumping ability, and catch radius to absolutely decimate any secondary in the NFL. Just watching highlights from his game against the Panthers last year shows how easy it looks for Julio. Any pass thrown his way can go for a touchdown, and he has to have at least two players on him at all times or else it could end up in an easy touchdown for the current best wide receiver in the NFL.
4. Rob Gronkowski TE - 98 OVR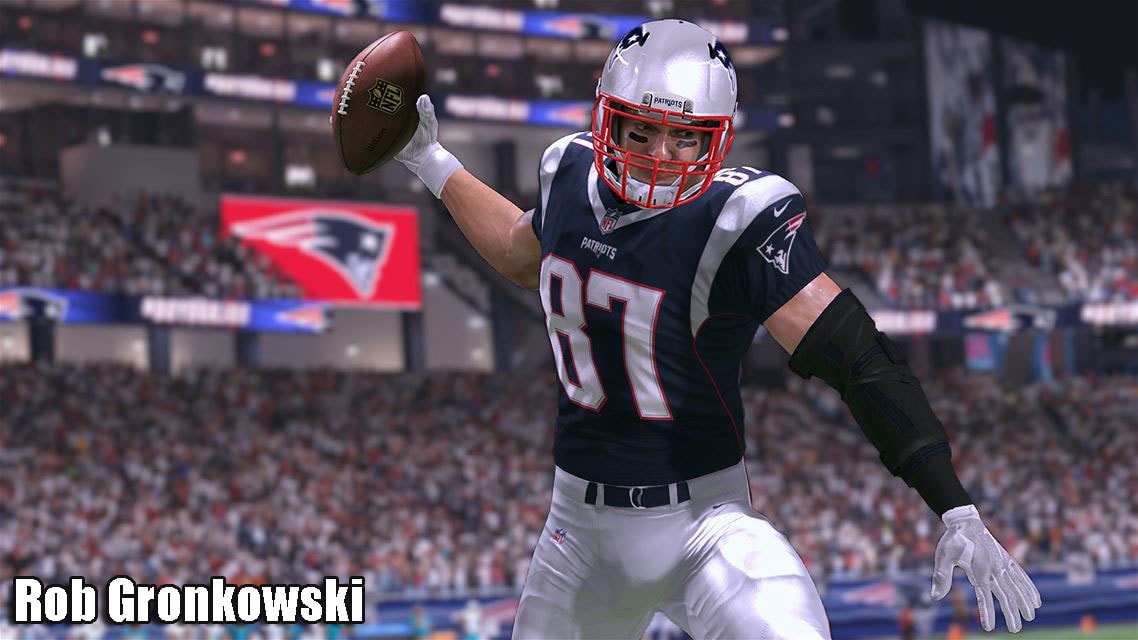 The best tight end in the NFL. The most dominant player in the NFL when healthy, and the most unstoppable force at his position that the league has ever seen. Rob Gronkowski can not be tackled. He cannot be covered, and he certainly cannot be shed off of when protecting in the run-game. He can single-handedly ruin a defensive coordinator's day at any given moment. No cornerback is big enough to tackle him and no safety or linebacker is fast enough to cover him. Even though he has dealt with many injuries over the past couple of years, nobody can disregard the force that is Gronk.
3. Von Miller OLB - 99 OVR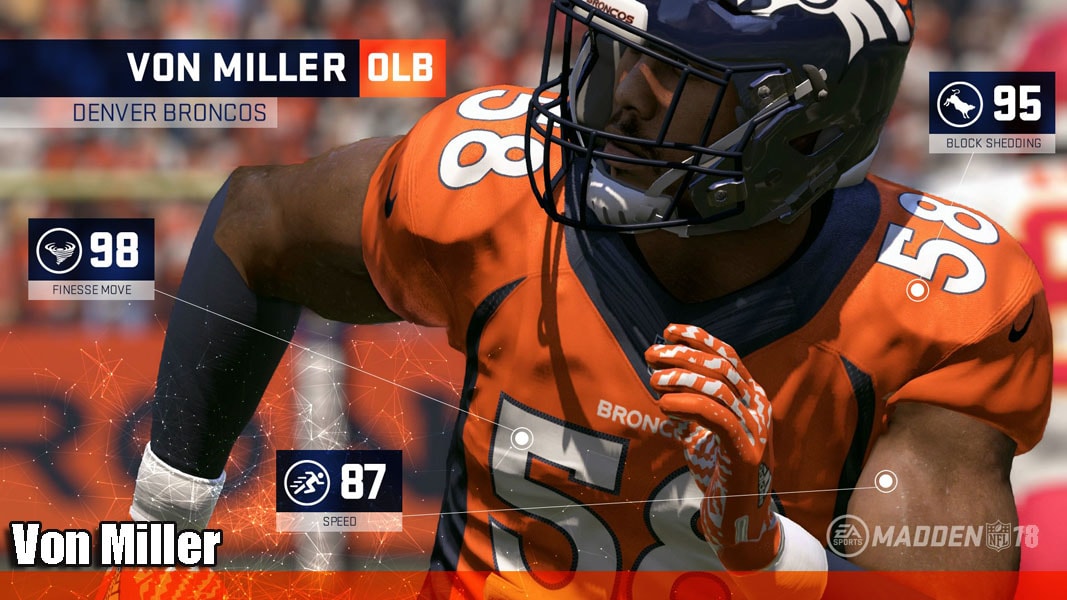 The very first 99 overall on our list, Von Miller exploded onto the NFL scene as a rookie back in 2011 and hasn't looked back. From wrecking multiple teams in the 2015 playoffs on the Broncos' Super Bowl run on, nobody has been able to stop Von Miller. Just ask Cam Newton, and he can tell you how much of a force Von Miller is to be reckoned with. Nobody can guard him, and if when he breaks off of the tackle guarding him, it is just a split-second until he will get one of his many sacks that are bound to happen on a game-to-game basis.
2. Aaron Donald DT - 99 OVR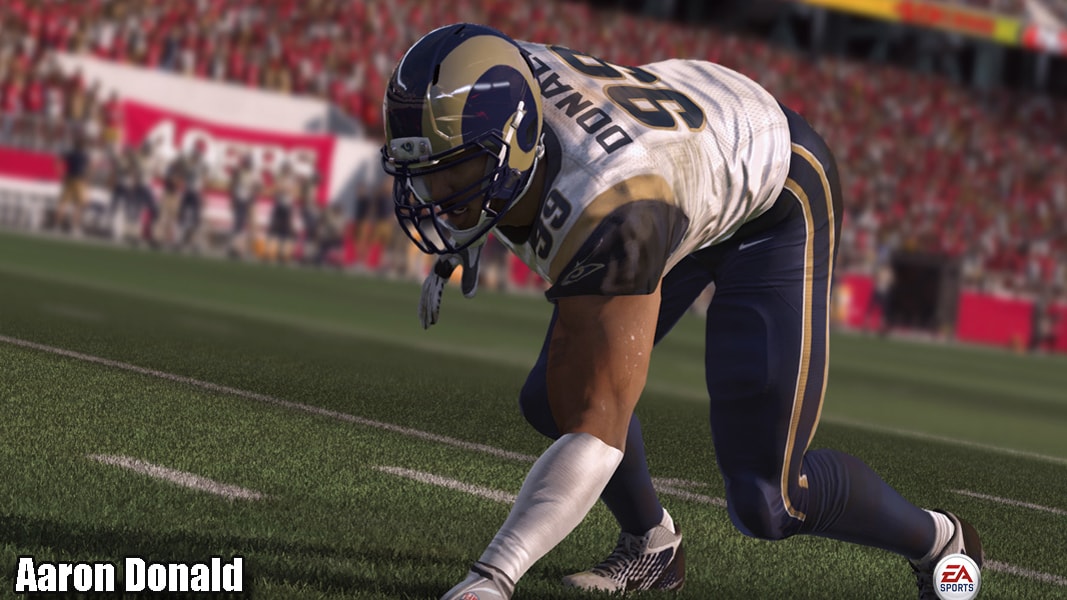 Although he is stuck on a mediocre team, that hasn't stopped Aaron Donald from being one of the most unstoppable players in the NFL ever since he was drafted. No center can guard him. No running back can run through him; and every single quarterback is horrified to see him during game-day lined up across from him. Don't ever underestimate Donald, because as one of the best players in the league, he will absolutely wreck an offense by himself.
1.Tom Brady QB - 99 OVR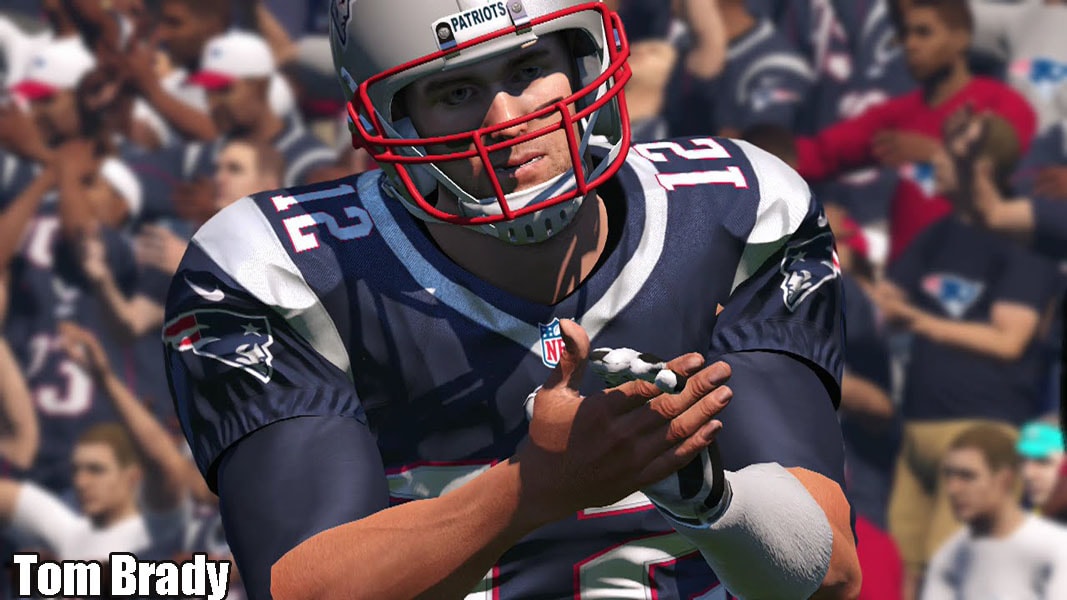 The GOAT himself comes in at the number one position as the top-rated player in the NFL. His first ever 99 overall rating to start off a Madden year, Tom Brady will likely stick with this rating all year as he looks to defend his record 5th Super Bowl title, seeking his 6th. Not a single player has ever been as great, clutch, or commanding as the Madden 18 cover vote star. Even as he comes to the close of his legendary career, Brady isn't slowing down, and the league needs to be on the look-out in case this two-time MVP decides he wants another MVP trophy for his mantle. With Brandin Cooks now on the team and Gronk back in action, Brady could once again be at the top of this list for Madden NFL 18.
Thank you guys for checking out the second-part of our list of the top ten players in Madden NFL 18! If you are in need of more information on Madden in general, or Madden Ultimate Team, be sure to come back here every day for more information. If you are in need of cheap madden nfl 18 coins, we also do that too, as fast and as reliably as possible!
The Top Ten Players in Madden 18 - Players 10-6
Each and every year, the biggest reveal aside from the Cover Star is the list of 99 overall players in Madden. The "99 Club" is a very exclusive list of only the most elite players throughout the entirety of the league.
Why You Should Be Excited To Play Madden 18!
We have been super excited for Madden 18 for months and that is why we have had a section of the site all ready to offer people the best place to buy Madden 18 coins. We have some reasons as to why you should be excited to play this year's Madden!
Fast Delivery
Our delivery team work 24/7 to make the delivery so we can usually complete your order in a very fast time.
Cheap Price
We do price check everyday in the whole market and we promise to make the prices as cheap as we can.
7x24 Support
Nfl18coins.com has a group of professional customer service team who work 24/7.
Refund
In the process of purchase, if we do not fulfill the customer's order on time, a refund will be granted. The refund will be issued immediately!