TOP 5 Madden 18 Wide Receivers Ratings
Hi Madden 18 fans at TOP 5 Madden 18 Running Backs Ratings take about madden 18 Running Backs, This Time nfl18coins editor will take about Wide Receivers. Wide Receivers In sets that have three, four, or five wide receivers, extra receivers are typically called slot receivers, as they play in the "slot" (open space) between the furthest receiver and the offensive line. In most situations, the slot receiver lines up off the line of scrimmage like the flanker position.Wide Receivers Attacking through the air is all the rage in the madden NFL 18. The skill level of today's wide receivers makes that easy to achieve. now we will list the top 5 ratings publish from easports, the top 1 rating is Julio Jones, Atlanta Falcons!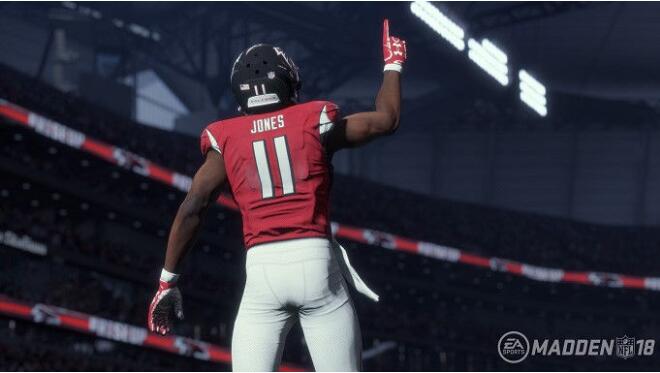 5. Dez Bryant, Dallas Cowboys.

The Cowboys' x-factor rounds out the top 5. He's the slowest here, but still very effective with 89 Speed with solid scores down the board. Worth noting is Dez's 98 Jump, highest in the WR class. This is paired with a 97 in both Spectacular Catch and Catch in Traffic. Just like in the NFL, Bryant is a reliable target even when covered.
4. Odell Beckham Jr., New York Giants

As a rookie in 2014, OBJ became the darling of every sports highlight reel made since that point. It's clear the Madden ratings gods haven't forgotten and have blessed OBJ with a 99 Spectacular Catch rating. He also matches Julio's speed and nearly matches Brown's Agility. He may not be as big as the other guys on this list, but he doesn't need to be. Even his Kick Return is decent for a desperate times scenario.
3. A.J. Green, Cincinnati Bengals

It should be a testament to how good WRs are in the NFL that somebody as talented as A.J. Green is 3. Only slightly slower than the two guys rated above him, Green carries a 91 Speed, with a 94 Agility, and 97 Jump. Green is big too, standing at 6"4'. At this point, you can just lob it up to Green, ignore coverage completely, and still have some success.
2. Antonio Brown, Pittsburgh Steelers

In terms of Madden ratings, there's Jones and Brown, and everyone else. There are other great receivers, but these two are the top. Brown falls behind Jones in some of the intangibles, but makes up that ground elsewhere, combining a 98 Agility, 98 Catch, and a 97 Elusiveness. Both his Elusiveness score and Ball Carrier Vision (98) are the highest among WRs. Let's throw in a 97 Juke, 88 Spin, and 93 Kick Return just for fun.
1. Julio Jones, Atlanta Falcons

When teams draft a wide receiver in the first round, they want that receiver to basically be Julio Jones. Defensive coordinators lose sleep over stopping Julio. His combination of size, speed, and strength are difficult to match. Jones scores a 94 Speed, 98 Catch, has a 91 Juke, and has an 84 on Spin Move and Stiff Arm to boot. Few in the game, ever, have been better than Julio Jones.
TOP5 Madden 18 Running Backs Ratings
Hi Madden Fans, Toady easpot publish top 5 Ratings for Running Backs,and Top 5 Ratings For The Quarterback, Le'Veon Bell, Pittsburgh Steelers get the top 1 Running Backs Ratings(97).Madden 18 will be coming in August 25, 2017, When the new madden 18 version will see the story mode Longshot, and other new updated, With that in mind, let's look at the top 5 running backs in Madden NFL 18.
who the Texans' best player is in Madden 18?
Madden 18 doesn't hit the stores until August 25th, but MaddenSchool.com has managed to leak the ratings for every player. Let's see how the players on the Houston Texans look in this year's game.
Fast Delivery
Our delivery team work 24/7 to make the delivery so we can usually complete your order in a very fast time.
Cheap Price
We do price check everyday in the whole market and we promise to make the prices as cheap as we can.
7x24 Support
Nfl18coins.com has a group of professional customer service team who work 24/7.
Refund
In the process of purchase, if we do not fulfill the customer's order on time, a refund will be granted. The refund will be issued immediately!