TOP5 Madden 18 Running Backs Ratings
Hi Madden Fans, Toady easpot publish top 5 Ratings for Running Backs,and Top 5 Ratings For The Quarterback, Le'Veon Bell, Pittsburgh Steelers get the top 1 Running Backs Ratings(97).Madden 18 will be coming in August 25, 2017, When the new madden 18 version will see the story mode Longshot, and other new updated, With that in mind, let's look at the top 5 running backs in Madden NFL 18.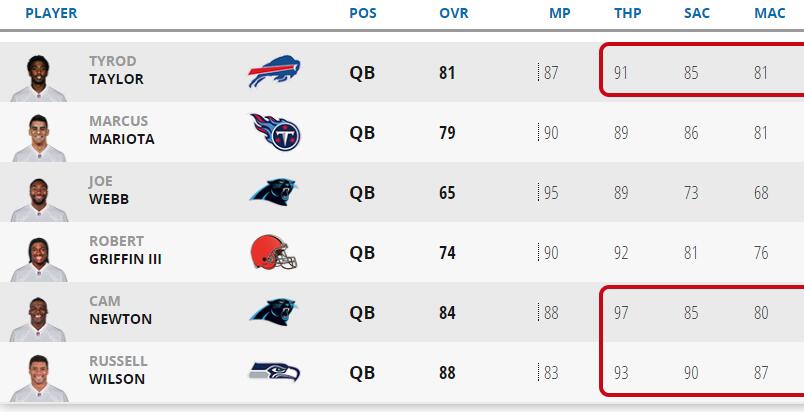 5. Ezekiel Elliott, Dallas Cowboys

Elliot was the most talented back of the 2016 Draft class, and had enough luck to play behind the Cowboys' talented offensive line. Pair those factors up, and it only took one year for the former high school track star to crack the top five. With Speed, Acceleration, and Agility all in the 90s, Elliott has the potential for huge positive gains. But outside of his 71 Catch rating, other pass catching scores fall to the 60s. His catching skills might not be as high as the others on this list, but Elliott is a back to always keep an eye on in Madden 18.
4. DeMarco Murray, Tennessee Titans

Murray's short and ineffective stint with the Philadelphia Eagles was quickly forgotten. Murray showed a bit of his old form last season, and it was enough to put him in the Madden RB elite, back in the 90s with a 91 OVR. Murray's 95 Awareness is second only to the immortal Frank Gore among RBs. He scores well as a pass catcher too, racking up mostly high 70s in catch ratings – worth noting is his Catch in Traffic rating of 78. Danny Woodhead, Shane Vereen, and Charles Sims III are the only better targets in traffic among RBs.
3. LeSean McCoy, Buffalo Bills

If Shady has proven anything, it's that he can shake it. At a 90 Speed, he's not the fastest back in the game. But combine that with his elusiveness, and he's a difficult back to stop when the controller is given to a skilled Madden player. If a 93 Elusiveness and Juke of 96 isn't enough to persuade you, maybe his best-in-position 96 spin move is. He's also the best route runner of the top 5 RBs. With all of that going for him, Shady is dangerously close to cheat code status.
2. David Johnson, Arizona Cardinals

The Cardinals' 2016 campaign was one to forget, outside of David Johnson. Johnson not only put himself among the NFL elite, he had an MVP-level season. The team is healthier now, so look for Johnson to continue rolling and for the Cards to be an NFC threat. One of the better-balanced runners in terms of ratings, Johnson also edges out Bell with a 76 Catch rating. That gives he and Theo Riddick the highest Catch rating in the top 30 OVR RBS. Oh, and let's not forget his Kick Return Rating of 85.
1. Le'Veon Bell, Pittsburgh Steelers
Bell is at the heart of the Steel City's explosive offense. His combination of speed out of his cuts and patience behind the line of scrimmage is unmatched, giving him a 98 Juke. Only one other person in the game matches that score, Tavon Austin. Bell's Ball Carrier Vision, 97, also only beaten by one player, his teammate Antonio Brown. He has the most consistent blocking scores of the top 5 backs and nearly all his ball carrying stats are in the 90s – his weakest is an 87 Truck rating. When an 87 is one of the "weaker" attributes, that gives you the best overall-rated RB in Madden.
TOP 5 Madden 18 Wide Receivers Ratings
The top 1 Wide Receivers Ratings rating is Julio Jones, Atlanta Falcons,if you want know the top 5 ratings for Wide Receivers you can visit this article!
Fast Delivery
Our delivery team work 24/7 to make the delivery so we can usually complete your order in a very fast time.
Cheap Price
We do price check everyday in the whole market and we promise to make the prices as cheap as we can.
7x24 Support
Nfl18coins.com has a group of professional customer service team who work 24/7.
Refund
In the process of purchase, if we do not fulfill the customer's order on time, a refund will be granted. The refund will be issued immediately!