What do you want to see Madden NFL 18 changes
I have a few idea soft what I want to see. I want to see Connected Franchise play a little deeper. Have customization options, much like NBA2K. I also want there to be options to change your uniforms if you don't like your current ones. As an avid sports gamer, I love when you have the options to do that.I also want to see a career mode/story mode. Is that so much to ask for? Make it that a rookie has to deal with things on and off the field, and each decision you make in a way affects your spot on the depth chart, your contract, and whether or not you get traded or released. I believe these two options would make Madden really, really solid, and would bring in a lot more people!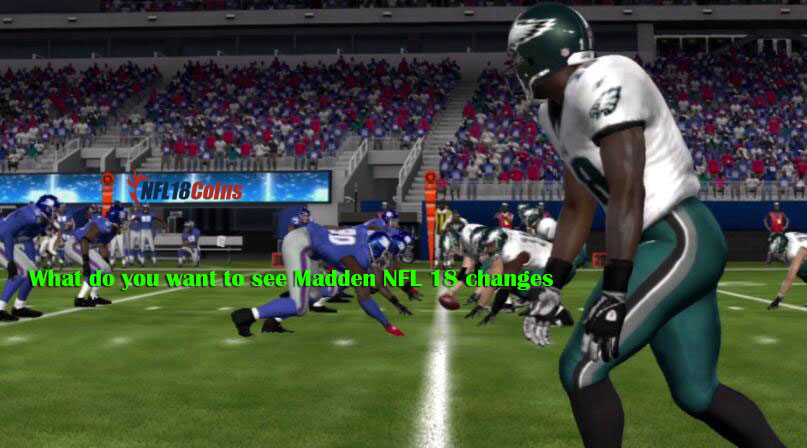 Better CPU Clock Management

Late in games the CPU's clock management is dreadful. From passing the ball at inopportune times, to prematurely going into run-only mode with a lead, the late-game clock management logic needs to be addressed.

Weather Should Have More Impact on the Gameplay

In rain and snow, we should see more drops, bobbles and even passes that get away from quarterbacks. The wind should affect throws, not just kicks. There should also be a little more slipping on muddy or wet fields.

Make Home-Field Advantage Matter

I like the disruption of passing symbols for QBs who are playing on the road, but a slight bump up in the attributes of players on the home team should give the proper home-field advantage.

Random Follies

Crazy plays happen in football. We need to see the random bad snap, cornerbacks falling down in coverage, personal fouls, muffed punts and other less-than-perfect plays on the gridiron.
Better Awareness For CPU-Controlled Defenders

There are times when CPU-controlled defenders take unrealistically improper angles to the ball carrier. This is most apparent on outside runs. Oftentimes, they don't even appear to be attempting to avoid pulling guards, fullbacks and offensive tackles.

We don't need 100 percent pursuit from mediocre defensive players, but sometimes the angles taken by defenders aren't accurate tendencies for players on a pro level.

Better QB AI

Quarterbacks take off and run more than they have in the past, but still not quite as often as they should. QBs who are known scramblers still seem to leave the pocket only as a last resort.

QBs with strong arms who historically take multiple shots down the field aren't as daring in Madden 17 when under CPU control.

Something needs to be done to better match QBs with their real-life tendencies.

All-Madden Passing

Playing on All-Madden shouldn't be about faster kick meters and players playing above their ratings. It should be about carrying more responsibility and not being able to depend on CPU assistance as much.

The passing game is a prime example.

Throwing to a spot rather than a receiver could make for a more realistic passing game. This would be a major undertaking that might require a complete rehaul of the passing game, but it could potentially be the most impacting change in Madden's gameplay history.

Players would still pick an intended receiver by pressing the corresponding button, but instead of throwing to the man and having it somewhat follow him like a magnet, the ball would go to a spot.

You'd have a small meter that gauged the height and wideness of the throw. The more accurate the passer, the slower the meters. You could use the triggers or back buttons to control the type of pass (bullet or touch).

Using the left stick would still allow you to throw the ball to the left, right, low or high, but depending on the situation, the window for completion would be smaller, and thus the meter would be more difficult to time.

Also, this entire timing mechanic doesn't take into account the position of a defender. This measurement is solely related to getting the ball to the spot where the receiver is, or should be headed.

User QBs in Madden would have more to think about using All-Madden passing.

Improved Line Play

Most of my gripes are with the run blocking. Sometimes it takes offensive lineman too long to decide who to block when they have what should be a clear assignment. On defense, I still feel as though defenders are sucked into blocks when they are in close proximity with offensive linemen.

This is a very difficult fix, but perhaps inserting an animation that has the blocker extend a hand to make contact with the defender could improve the visual result.

Injuries Away From the Ball

In real football, every player is susceptible to injury. In Madden 18, you have to be part of a tackle sequence to get hurt (unless the game is simulated). The reason for this is the lack of off-ball injuries. It's an unfortunate aspect of real-life football, but it should be in Madden.
Another example of the above - in my league we are years into our online franchise, and Richard Sherman is still the Seahawks top CB and is still OVR 90+. However, his SPD rating has declined to 84. Every single user player in my league is just putting a fast WR on his side and running go routes, and he obviously can't keep up. I'd like to see the CPU know that Sherman is slow and do some amount of roster juggling to keep him on the field - because he still has great MCV / ZCV / PRS / AWR / PRC - but to put him in better positions to not get exposed. I want to see the CPU slide Sherman to nickel back or safety, and to have Sherman more frequently line up giving his guy a large cushion if he must line up outside. I don't want to see the CPU force Sherman into Cover 1 Press at midfield against a receiver who is obviously going to toast him. if you have other idea go nfl18coins.com and chat with us!
Madden 18 Rookies Pick Analysis part 3
Last time nfl18coins editor wite Madden 18 Rookies Pick Analysis part 1,Madden 18 Rookies Pick Analysis part 2,today we will Analysis next 5 Madden 18 Rookies Jabrill Peppers,David Njoku,DeShone Kizer,Larry Ogunjobim,Myles Garrett.
Why you can Trust nfl18coins.com?
New Customer before buy madden 18 coins form nfl18coins.com may be have a question : can i trus nfl18coins.com to buy madden 18 coins? As a member of nfl18coins.com, I can definitely answer you "yes",why i can say "yes"?
Fast Delivery
Our delivery team work 24/7 to make the delivery so we can usually complete your order in a very fast time.
Cheap Price
We do price check everyday in the whole market and we promise to make the prices as cheap as we can.
7x24 Support
Nfl18coins.com has a group of professional customer service team who work 24/7.
Refund
In the process of purchase, if we do not fulfill the customer's order on time, a refund will be granted. The refund will be issued immediately!