Who Should Be on the Madden 18 Team Cover Part 1?
Whether you're wanting to see your guy on the cover or not, here is one nominee from each of the 32 NFL teams to grace the cover of Madden 18.At part 1 nfl18coins Elected 5 teams guy on the cover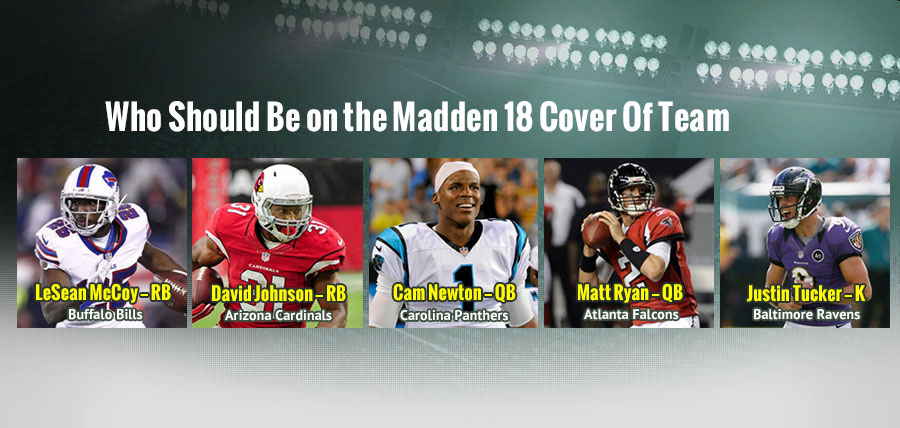 1) Justin Tucker — K : the cover of Baltimore Ravens
I have been told time and time again, " You have no business writing." Nothing makes that point more valid than saying something as stupid as putting a kicker on the cover of Madden 18 is a good idea. But come on, Justin Tucker of the Baltimore Ravens is no ordinary kicker. The dude isn't human; he's some kind of cyborg kicking machine that makes field goals fun.
Tucker is now the most accurate kicker in NFL history after an amazing season in which he connected on 38-of-39 kicks in 2016. He also was an impressive 10-of-10 on kicks over 50-yards including a long of 57-yards. For his career now he is 168-of-187 kicking which gives him a career percentage of 89.8.
Even more impressive than his accomplishments is the fun he has after drilling one of his mile-long three-pointers.
Now who wouldn't want to see this dance as the game loads up. Oh, and just for more fun facts; He can also sing in seven languages which are English, Spanish, French, Italian, German, Latin and Russian! There has to be some way to incorporate that into the game. Sure, a kicker is not the top choice, but if there ever was one, it would have to Justin Tucker.
2) LeSean McCoy — RB : the cover of Buffalo Bills
While his insistence that he is the best running back in the NFL is about three years too late, LeSean McCoy is the best weapon the Buffalo Bills have on both sides of the football. After rising to prominence and becoming a league leading rusher with the Philadelphia Eagles, McCoy found himself being shipped away to Buffalo.
While his production wasn't a problem, his popularity may have been. Former Eagles roster demolition specialist head coach Chip Kelly had a problem with several of the star players on the team. He cut wide receiver DeSean Jackson and traded McCoy to the Bills for any player he could get from his days as the coach at Oregon.
Kelly was eventually fired by Philly. He was also fired by his next team, the San Francisco 49ers. McCoy has not been fired, but instead has recorded 2,162 yards and 16 touchdowns in two seasons for the Bills. He is averaging 4.9 yards per rush and had 13 of his 16 touchdowns this past season alone.
McCoy isn't the player he once was as injuries and age have limited his ability to stay on the field like he used to. He is still one of the top three-or-four running backs currently in the NFL and is far and away the most deserving Bill to grace the cover of Madden.
3) David Johnson — RB : the cover of Arizona Cardinals
Running back David Johnson is an easy choice for the Arizona Cardinals. He is a real-life video game player who tied a record with one of the greatest to ever play the game, Detroit Lions running back Barry Sanders, for yards from scrimmage in consecutive games. He also is the face of the franchise's future after rushing for 1,239 yards and catching another 879 for the Red Birds in 2016.
Johnson rushed for 16 touchdowns and added another four receiving last season. All this came in just his second season in the league and his first as a full-time starter. While the offense of the Cardinals is led by veteran quarterback Carson Palmer and veteran wideout Larry Fitzgerald, Johnson has quickly become their biggest star.
Heading into the 2017 season he will be one of the most popular players among fans. The reason for that is because he is a fantasy football stud. Such a distinction makes him a great option for the Madden 18 cover because of the popularity of fantasy among NFL fans.
Previous players to grace the cover also did so after posting huge fantasy seasons like former Browns running back Peyton Hillis for Madden 12 and Gronkowski and Beckham, Jr. more recently.
4) Matt Ryan — QB : the cover of Atlanta Falcons
Most people are going to remember the Atlanta Falcons 2016 season for the wrong reasons. They had a shot to win Super Bowl 51 after taking a 28-3 lead over the New England Patriots. Then they fell apart and lost by a score of 34-28 in overtime to the now five-time champs.
Ryan was chosen third overall in 2008 as the Falcons tried to distance themselves from former Madden cover athlete (and video game phenom) Mike Vick. He immediately turned the team around as they went 11-5 in his rookie season. By 2011, he was throwing for over 4,000 yards and has had at least that many yards in every season since.
Last year he had his career high in yards with 4,944 through the air, touchdowns with 38, and completion percentage with 69.9. He also had a career low with just seven interceptions on the season. After such a sensational season it would make a ton of sense for "Matty Ice" to be on the cover of Madden 18.
5) Cam Newton — QB : the cover of Carolina Panthers
How is it that one of the most popular players in the league has never graced the cover of Madden? Carolina Panthers quarterback has been a huge star since his days as a National Champion winning quarterback at Auburn.
After joining the NFL his star has only gotten brighter. He won the 2011 Offensive Rookie of the Year Award as well as the 2015 NFL MVP. He also got his team to the Super Bowl following his MVP season and a 15-1 record. Unfortunately, he and the Panthers finished as runners-up in the big game, which the quarterback has done with the Madden cover as well.
Newton twice lost the fan vote in the finals. In 20,13 he missed out thanks to fans selecting Detroit Lions wide out Calvin Johnson. Two versions later he lost to another receiver, this time Odeel Beckham, Jr. of the Giants.
It's a shame for Newton because he is apparently a huge fan of the game, as evidenced by an ESPN post which was written in favor of Newton being the Madden 17 cover athlete from David Newton, saying"
"I'm a Madden connoisseur for all type of years dating back, and it's great to have my thumbs be so talented."
Of course, we all know by now that world-famous party boy Rob Gronkowski is the one who was featured, not Newton. That doesn't mean the hype train should stop. Panthers fans should openly petition for Cam to grace the cover. Then if he is snubbed again, they can start the #NotMyMadden movement.
Next part we will Elected Other 5 teams of the cover!
Who Should Be on the Madden 18 Team Cover Part 2?
Prediction Baltimore Ravens: Justin Tucker — K,Buffalo Bills: LeSean McCoy — RB,Carolina Panthers: Cam Newton — QB,Chicago Bears: Jordan Howard — RB,Cincinnati Bengals: A.J. Green — WR Should be Cover at madden nfl 18
Fast Delivery
Our delivery team work 24/7 to make the delivery so we can usually complete your order in a very fast time.
Cheap Price
We do price check everyday in the whole market and we promise to make the prices as cheap as we can.
7x24 Support
Nfl18coins.com has a group of professional customer service team who work 24/7.
Refund
In the process of purchase, if we do not fulfill the customer's order on time, a refund will be granted. The refund will be issued immediately!