Who Should Be on the Madden 18 Team Cover Part 2?
At the Madden 18 Team Cover Part 1 Nfl18coins.com Introduction the Should Be Cover on madden nfl 18 Justin Tucker — K : the cover of Baltimore Ravens,LeSean McCoy — RB : the cover of Buffalo Bills,David Johnson — RB : the cover of Arizona Cardinals,Matt Ryan — QB : the cover of Atlanta Falcons,Cam Newton — QB : the cover of Carolina Panthers.
this part we will prediction Baltimore Ravens: Justin Tucker — K,Buffalo Bills: LeSean McCoy — RB,Carolina Panthers: Cam Newton — QB,Chicago Bears: Jordan Howard — RB,Cincinnati Bengals: A.J. Green — WR Should be Cover at madden nfl 18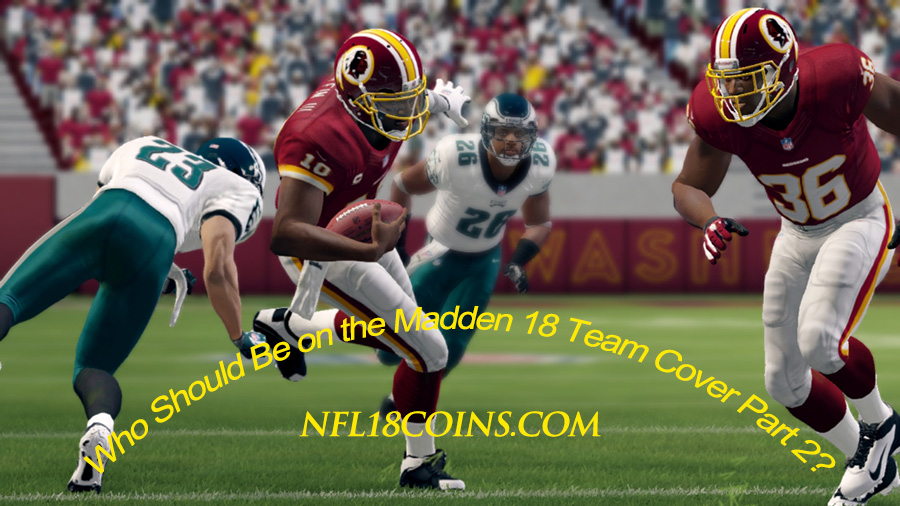 1) Cincinnati Bengals: A.J. Green — WR
It's tempting to select the red-rifle here. Andy Dalton and his red-mane gracing the cover of Madden 18 would be beautiful. However, after a down season in 2016 it would be kind of hard to justify the quarterback being the choice for the Cincinnati Bengals.
Instead we go with his favorite target, wide receiver A.J. Green. The fourth-overall pick in 2012 out of Georgia, Green has been a blessing for the Bengals ever since first donning his stripped helmet. Up until 2016 he had recorded at least 1,000-yards receiving and the only thing that stopped him from doing so again last season was being injured for six games. He wound up with 964 yards still in just 10 games, which showed he was still explosive when he was on the field.
Another thing about Green that endears him to fans is the rumor that he was upset when the team didn't let him play in Week 17. Green had reportedly believed he was fully healthy and wanted to play, but with nothing on the line the Bengals decided to let him start preparing for the offseason. While some may think a player is ready to call it quits with a meaningless Week 17 game in a losing season, Green was upset that he couldn't compete.
2) Chicago Bears: Jordan Howard — RB
Things eventually have to get better for the Chicago Bears. They went all in on quarterback Jay Cutler by not only trading a collection of picks for him, but then by re-signing him to a huge deal when he became a free agent a couple of seasons ago. He was paired with receiver Brandon Marshall, running back Matt Forte and tight end Martellus Bennett. The results were never what the team expected and now only Cutler is left from that bunch.
Maybe he won't be in 2017 though. Reports suggest that Cutler will let go soon by Chicago as they look to try and rebuild for the future and have realized Cutler is not the franchise guy. That means that they need a face of their franchise until they find their new quarterback.
Enter running back Jordan Howard. The rookie from Indiana started in 13 games, playing in 15, and made the most out of every snap. He wound up second in the NFL in rushing yards behind fellow rookie Ezekiel Elliott with 1,313 yards.
Howard bursting onto the scene was the one bright spot in an otherwise dismal season for the Chicago Bears. It's unlikely they get anyone on the cover of Madden 18, but if they did it would have to be Howard.
3) Baltimore Ravens: Justin Tucker — K
I have been told time and time again, " You have no business writing." Nothing makes that point more valid than saying something as stupid as putting a kicker on the cover of Madden 18 is a good idea. But come on, Justin Tucker of the Baltimore Ravens is no ordinary kicker. The dude isn't human; he's some kind of cyborg kicking machine that makes field goals fun.
Tucker is now the most accurate kicker in NFL history after an amazing season in which he connected on 38-of-39 kicks in 2016. He also was an impressive 10-of-10 on kicks over 50-yards including a long of 57-yards. For his career now he is 168-of-187 kicking which gives him a career percentage of 89.8.
Even more impressive than his accomplishments is the fun he has after drilling one of his mile-long three-pointers.
4) Buffalo Bills: LeSean McCoy — RB
While his insistence that he is the best running back in the NFL is about three years too late, LeSean McCoy is the best weapon the Buffalo Bills have on both sides of the football. After rising to prominence and becoming a league leading rusher with the Philadelphia Eagles, McCoy found himself being shipped away to Buffalo.
While his production wasn't a problem, his popularity may have been. Former Eagles roster demolition specialist head coach Chip Kelly had a problem with several of the star players on the team. He cut wide receiver DeSean Jackson and traded McCoy to the Bills for any player he could get from his days as the coach at Oregon.
Kelly was eventually fired by Philly. He was also fired by his next team, the San Francisco 49ers. McCoy has not been fired, but instead has recorded 2,162 yards and 16 touchdowns in two seasons for the Bills. He is averaging 4.9 yards per rush and had 13 of his 16 touchdowns this past season alone.
McCoy isn't the player he once was as injuries and age have limited his ability to stay on the field like he used to. He is still one of the top three-or-four running backs currently in the NFL and is far and away the most deserving Bill to grace the cover of Madden.
5) Carolina Panthers: Cam Newton — QB
How is it that one of the most popular players in the league has never graced the cover of Madden? Carolina Panthers quarterback has been a huge star since his days as a National Champion winning quarterback at Auburn.
After joining the NFL his star has only gotten brighter. He won the 2011 Offensive Rookie of the Year Award as well as the 2015 NFL MVP. He also got his team to the Super Bowl following his MVP season and a 15-1 record. Unfortunately, he and the Panthers finished as runners-up in the big game, which the quarterback has done with the Madden cover as well.
6) Cleveland Browns: Terrelle Pryor — WR
He's currently a free agent, so technically wide receiver Terrelle Pryor may not even be a candidate to be the Cleveland Browns cover athlete. At the moment, he's the favorite because he was the most popular (even if not most liked) member of the Browns in 2016.
Pryor was ripped a few times during the season. Once by full-time perpetual law-breaker and part-time cornerback Adam Jones of the Bengals, once by the extremely annoying (and thankfully now retired) Colts punter and loud mouth Pat McAfee, and twice by Giants corner Janoris Jenkins. Pryor however took the high road, most notably after talking about how Jenkins did bother him some saying Pryor "sucks."
7) Dallas Cowboys: Dak Prescott and Ezekiel Elliott — QB/RB
This team finally has some players worthy of putting on the cover. After years of being mocked for mediocrity, the Dallas Cowboys posted a 13-3 record thanks in large part to their impressive rookies. Running back Ezekiel Elliott won the NFL rushing title after being selected fourth overall out of Ohio State University. He was joined by quarterback Dak Prescott, a fourth-round pick from Mississippi State.
Prescott took over for an injured Tony Romo, and an injured Kellen Moore. Of course, that was only after the team reportedly tried to acquire a veteran but didn't like the options available. After "settling" with Dak he threw for 3,667 yards and 23 touchdowns. He had a quarterback rating of 104.9 thanks to his high completion percentage and incredibly low interception total of just four.
The rookie quarterback took the NFL award for being the best offensive rookie of the year, then said he wanted to cut the trophy in half and share it with Zeke, whom he brought on stage with him for the acceptance speech. While the NFL didn't give them co-Rookie of the Year, Madden can. It would be very fitting that the new faces of America's Team both appear on the cover of the greatest sports video game in America.
8) Denver Broncos: Von Miller — OLB
Here's another easy one. That's not to say the Denver Broncos don't have a ton of talented players on their team, because clearly they do. They're just one season removed from being crowned Super Bowl Champions, so it's obvious they have skill all over the field.
With that level of talent there are tons of worthy cover guys like wide receivers Demaryius Thomas and Emmanuel Sanders. Both are big-time playmakers who have enough highlight reel plays to prove their case. Then on defense guys like cornerback Chris Harris, Jr. are complete studs as well.
Despite all of that, this one is easy because their absolute best player is outside linebacker Von Miller. Not only is he a fantastic player, but he is also their most interesting character as well. He shows up to places with hats that look like raccoons, dressed up like a cowboy, and he is a chicken farmer. As if that's not enough, he is the king of the celebration dances.
9) Detroit Lions: Matthew Stafford — QB
It was a really good year for Detroit Lions quarterback Matthew Stafford. He needed it too after whispers were swirling in 2015 that the team may be ready to move on from the University of Georgia kid that was selected first overall in the 2009 NFL Draft.

After the Lions went 7-9 the rumors were that the front office was tired of waiting for Stafford to take that next step. From 2009-2015 the team had recorded just two winning seasons and Stafford was 42-51 as a starting quarterback in Detroit. To make matters even worse for him, star wide receiver Calvin Johnson hung up his cleats during the offseason leaving Stafford short handed at the wide out spot.

He responded with one of his most efficient campaigns as an NFL quarterback. He was an early season MVP candidate as he and the Lions became known for comeback wins. They finished with a record of 9-7, and a remarkable eight of those wins were comeback wins. Not just any comeback wins though, all eight were won on game winning drives by Stafford and company.

As the season wore on the team slipped some, and Stafford looked limited thanks to a hand injury. The year ended with a one-and-done playoff appearance, but Stafford did a lot to raise his stock in 2016.
10) Green Bay Packers: Aaron Rodgers — QB
This one is hard because the Green Bay Aaron Rodgers already get a ton of attentions. Oops, the Green Bay Packers, sorry about that. It's hard to realize that he isn't out there playing 1-on-11 and just slaughtering those 11 when you listen to the game day announcers.

In all fairness, their A-Rod slobbering is justified. He's an amazing talent and does throw one of the best deep balls in the NFL. He's also incredibly recognizable, thanks in large part to his State Farm commercials. The discount double check took off for a while thanks to the commercials he was in even those who aren't sports fans recognize him.

For that reason, he is the only choice to go on the cover of Madden for Green Bay. He has a Super Bowl ring and the team has twice as many wins (90) as they do losses (45) with him under center. He's also coming off a season in which he led his team back from a 4-6 start to the NFC Championship game after they knocked off the number one seed on the road in the Divisional Round.

Once the season was done, Rodgers had thrown for 4,428 yards with 40 touchdowns to just seven interceptions.
in the Who Should Be on the Madden 18 Team Cover Part 3? we will Introduction the next ten person Should Be Cover on madden nfl 18
Who Should Be on the Madden 18 Team Cover Part 1?
Whether you're wanting to see your guy on the cover or not, here is one nominee from each of the 32 NFL teams to grace the cover of Madden 18.At part 1 nfl18coins Elected 5 teams guy on the cover
How to Buy Cheap Madden 18 coins from nfl18coins
nfl18coins.com is definitely one of the best madden 18 coins selling website, ranking top 5 during searching "madden 18 coins" in google. Here we would like to help you to solve those issues. We have introduced how to choose a reliable site before, and you can learn this article first.
Fast Delivery
Our delivery team work 24/7 to make the delivery so we can usually complete your order in a very fast time.
Cheap Price
We do price check everyday in the whole market and we promise to make the prices as cheap as we can.
7x24 Support
Nfl18coins.com has a group of professional customer service team who work 24/7.
Refund
In the process of purchase, if we do not fulfill the customer's order on time, a refund will be granted. The refund will be issued immediately!